Heartdream is Steve & Mirabai Bangs, husband-and-wife singer/songwriter/musicians from the San Francisco Bay Area, who create Music of the Heart, ranging in sound from meditative and soothing to uplifting and inspirational.  Their original songs express a new vision of love, unity, and peace.  Steve plays guitar, and Mirabai plays metallophone, Native American flute, crystal bowls, recorder, chimes, and bell tree.  Mirabai's voice has been called angelic, crystalline, and flute-like, and it complements Steve's warm tenor voice, creating beautiful vocal harmony. 
Heartdream was a featured musical group at the 2011 Unity People's Convention, and at the 2007 Unity West Central Regional Conference at Asilomar, and has opened for Marianne Williamson.  Their music regularly captivates congregations at Unity churches, Centers for Spiritual Living, and other New Thought churches and gatherings throughout the Western United States.  Heartdream has released five CD's, "Raindrops Fall in a Clear Crystal Bowl", "I Am Spirit", "Only Love Is Real", "God's Love Is the Treasure", and "New Millennium."  Click on STORE on the left to listen to and purchase individual song or album downloads, or physical CD's. 
 On the night they met, Steve & Mirabai sang together and have been making beautiful music ever since.  Their love for each other shines in their eyes as they sing their songs celebrating spirit!  (Please scroll down for more info about Steve & Mirabai Bangs as the Heartdream Duo.) 
STEVE & MIRABAI BANGS AS THE HEARTDREAM DUO
Steve & Mirabai (then known by her middle name Laurie) were set up up to meet as a blind date by Mirabai's sister Diane.  However, neither one of them knew they were being set up.  Diane thought it would be a good match because she knew that Steve and Mirabai were both singer/songwriters/musicians.  The occasion was a party that was being held at the house in Menlo Park where Steve and two other guys lived.  As Diane and Mirabai were driving to the party, Mirabai got the shivers and had a premonition that she was about to meet someone that she would know for the rest of her life.  When she mentioned this to Diane, Diane laughed with a knowing smirk, saying, "You never know!"
When Mirabai walked in, Steve was sitting at a table facing the door, eating cheese fondue.  When their eyes met, they had a shared vision of love, and felt as if they had known each other throughout the ages!  On the night they met, Steve & Mirabai sang together and talked about their spiritual beliefs and their admiration for the music of George Harrison, whose songs set an example for popular music reflecting a higher consciousness.  At the party, they harmonized beautifully on two of George Harrison's famous songs, "If I Needed Someone" and "Here Comes the Sun".  Thus was born the duo of Steve & Mirabai Bangs, now known as Heartdream!
When Steve's rock group Creekfrog disbanded, Steve and Mirabai (Laurie) decided to get married.  True to form, they sang together at their own wedding reception!  They honeymooned in South Lake Tahoe, where they began writing celestial songs based on two of Mirabai's poems.  These songs, "Touching Life" and "See the Light", were recorded on their first CD, "New Millennium".
They then moved to San Francisco, where they began performing as a duo, initially known as Steve and Laurie (catchy name!), and then "The Inner Ear".  This new name was a reflection of the spiritual nature of the songs they were writing together. 
Steve and Laurie became somewhat of a fixture on the coffeehouse scene in the Bay Area, playing regularly at such iconic venues as the Ghirardelli Wine Cellar and the Purple Onion in San Francisco, LaVals's Subterranean in Berkeley, and Chuck's Cellar in Los Altos.  Not surprisingly, their act included lots of love songs, some originals, and also some lighthearted fare featuring Laurie's tap-dancing talents such as "Five Foot Two", "Ain't She Sweet", and "Honey Pie".  To accommodate Laurie's hoofing, they even brought a tap-dancing board to their gigs!
Their spiritual path of unity led them to the study of yoga at the Sivananda Yoga Center in San Francisco, where they met the famous Indian spiritual teacher Swami Vishnudevananda.  Without any advance knowledge about Laurie and the fact that she was a singer, Swami Vishnu gave her the name Mirabai, which she has now taken as her legal name.  Soon they learned that Mirabai was an Indian saint who wrote and sang devotional songs to God, starting as a child and continuing throughout her life.  This name was amazingly appropriate for Mirabai Laurie Bangs, as she had also written poems and sung of her love for God since childhood.  Later, after hearing Mirabai sing, Swami Vishnu proclaimed that she had a "flute voice"!
Through Swami Vishnudevananda, Steve and Mirabai then met the renowned Indian musical saint, Swami Nadabrahmananda, who taught Mirabai classical Indian singing and harmonium, and taught Steve tabla.  Swami Nadabrahmananda delighted in Steve & Mirabai's daughter Cherise (Sri Devi), who was a toddler at the time.  He also famously predicted, quite accurately, that the second child Mirabai was carrying would be a boy. In fact, Swami Nadabrahmananda gave their son the name Sivananda while he was still in the tummy.  
Steve & Mirabai's son, Nathaniel Orion (Sivananda) Bangs, grew up to be a drummer and tabla player, and can be heard on Heartdream's CD's!  He is also a Reiki master and California State-Certified Massage Therapist.  Their daughter, Cherise Leana (Sri Devi) Bangs Kruger, and her husband Adam (Ananda) Kruger are both Ayurvedic health practitioners and yoga instructors.  In addition, Cherise plays the harmonium and sings, and is an actress and comedian.   Adam is also a comedian, on-camera host, and actor.
Swami Vishnu also introduced Steve & Mirabai to Sant Keshavadas, the "Minstrel of Love" and founder of the Temple of Cosmic Religion in the U.S., and the Vishwa Shanti Ashram in Bangalore, India.  Sant Keshavadas's motto was "Truth is One, Many are the Names", and he delivered inspiring spiritual discourses combined with his bhajans (spiritual songs of devotion to God), accompanied by his virtuoso harmonium playing.  Santji's wife Rama Mata also sang with him in the classical Indian style, and their sons Murali and Shyam played tabla.  Now that Santji has made his transition from the earthly plane, Rama Mata, known affectionately as Mataji, carries on the work of Vishwa Shanti Ashram (loosely translated as a religious retreat for universal peace).    
Steve and Mirabai frequently sang for Sant Keshavadas at his satsangs (spiritual gatherings), and one of his favorite songs of theirs was "Touching Life" (on Heartdream's "New Millennium" CD).  Santji often remarked that when Steve and Mirabai looked at each other while they were singing, the wave of love between them uplifted everyone to feel their connection with the divine.
In 1994 Steve and Mirabai became known as Heartdream.  A few years later they began singing at Unity of Walnut Creek, other Unity churches, Centers for Spiritual Living, and other New Thought churches.  They released their first CD, "New Millennium", in 1999.  Their second CD, "Only Love Is Real", was released in 2007, and their third CD, "God's Love Is the Treasure", a children's/family CD, was released in 2011.  Their fourth CD, "I Am Spirit", was released in 2017, and their fifth and most recent CD, "Raindrops Fall in a Clear Crystal Bowl", was released in 2019.  Please navigate to the Store page to purchase CD's, USB Thumb Drives, and digital downloads of entire albums and individual tracks.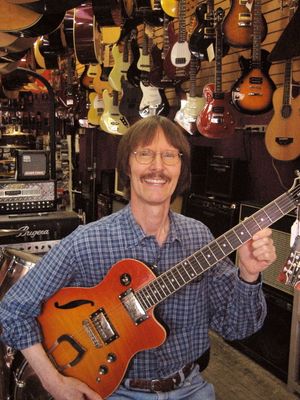 Like many others of his generation, Steve Bangs decided to become a musician after seeing The Beatles on the Ed Sullivan Show!  He learned to play the guitar by listening to records, figuring out guitar parts by slowing down 33 1/3 rpm record albums to 16 rpm.  With his high school friends, he formed a garage band (or more accurately, a basement band) in Webster Groves, Missouri, called the Blues Salvage. Steve then moved to California to attend a prestigious private university near Palo Alto, but it turned out he was more interested in playing music than in academic studies.  So when he pulled all-nighters, it was to play guitar, not to cram for exams.
Steve became the lead guitarist and vocalist for Bay Area rock band Creekfrog.  Their biggest gig was as the opening act for the Nitty Gritty Dirt Band at a concert at the College of Southern Idaho.  After Creekfrog rocked the CSI gymnasium that night, the Twin Falls area was never quite the same!
By this time, Steve had already met Mirabai (then known by her middle name, Laurie), and they fell in love at first sight (that's a whole 'nother story - see above for more exciting details!).
Steve is an accomplished guitarist, playing acoustic, electric, and slide guitar styles. In addition, he plays electric bass, keyboards, drums, and percussion instruments. Two other interesting facts about Steve are that he is a great whistler, oftentimes jamming with the local mockingbirds outside the window late at night, and cheek flutist, producing sounds by tapping his fingers on his cheek!
BIOGRAPHY OF MIRABAI BANGS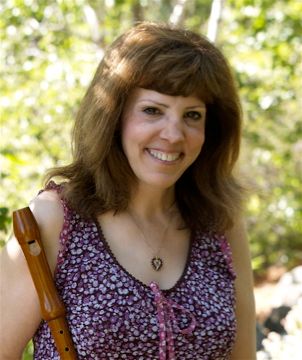 Mirabai Bangs has always loved singing and writing poetry, ever since she was a little girl.  She has a minor in vocal music from San Francisco State University, and has trained both classically and traditionally with renowned opera singer Edna Garabedian and Susan Witt.  In addition, she also studied classical Indian singing and harmonium with famous Indian musical saint Swami Nadabrahmananda.
After meeting Steve, they transformed many of her poems into celestial songs of divine love.  Mirabai has a soaring soprano vocal instrument which was described by famous Indian spiritual teacher and yogi, Swami Vishnudevananda, as a "flute voice"!
Mirabai has a master's degree in early childhood education with an emphasis in creative dramatics.  This, combined with her many years of elementary school teaching experience, has enabled her to understand the heart of the child when writing songs, stories and plays, both spiritual and secular, for children.  Many of her children's songs appear on Heartdream's children/family CD, "God's Love Is the Treasure."  Mirabai has also directed the children's choir and children's plays at Unity of Walnut Creek for Easter and Christmas Eve for many years.
Mirabai's free-flowing vocal improvisations are a trademark of Heartdream's celestial pop sound.  Her songs feature vivid imagery and visions of universal love and global unity.
Mirabai also adds her ethereal Native American flute to many of Heartdream's songs, adding a new dimension to their sound.  She also plays the metallophone, which is a small xylophone with resonating tubes that creates a celestial vibration.  And she also plays the crystal bowl on several of Heartdream's songs, which enhances the meditative aspect.